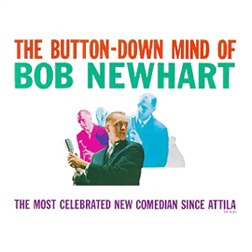 Hey, viewer alert!
Bob Newhart
's going to be featured on
American Masters
tonight on PBS. Check your local listings, but I think it'll be at the start of primetime, so 8pm eastern and pacific, 7pm central (I don't know nothin' bout no mountain). From his stand-up through
The Bob Newhart Show
,
Newhart
,
Bob
, and
George & Leo
and every once in awhile in the movies this man has always been very, very funny (well, maybe not so much
George & Leo
, but that did have Jason Bateman on it so maybe he'll show up and have something to say about Mr. Newhart) and I think it behooves us all to find out more about him this evening. In short: recommended!